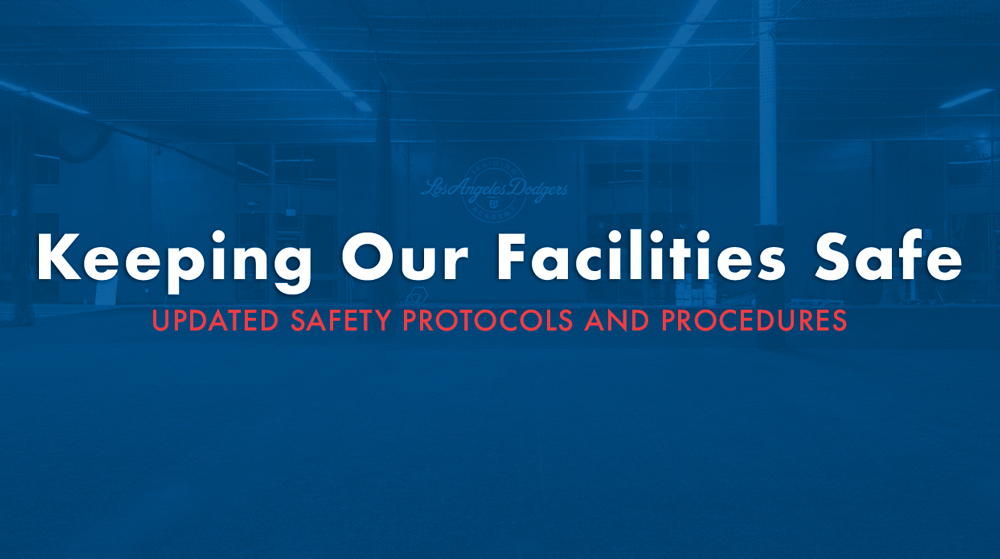 Updated Safety Protocols and Procedures
At Dodgers Training Academy we are committed to the health and safety of everyone in our programs and facilities. To keep our athletes, coaches and staff as protected against COVID-19 as possible while engaging in athletic endeavors, we are following all local, state, and federal guidelines. Scroll down for information on guidelines in your area.
HEALTH SCREENING
In order to keep our staff and clients safe, and to reduce the chance of athletes missing out on training days, we will not allow anyone in our facilities if they:
Show symptoms of COVID-19; or
Are not fully vaccinated and have been in close contact (within six feet for 15 cumulative minutes over a 24-hour period) with someone who has tested positive for COVID-19 with an antigen or molecular test in the past 14 days; or
Has tested positive for COVID-19 in the past 10 days or are awaiting results of a COVID19 test due to possible exposure or symptoms and not from routine asymptomatic COVID-19 screening or surveillance testing; or
Has been told by a public health or medical professional to self-monitor, self-isolate, or self-quarantine because of concerns about COVID-19 infection in the past 14 days.
MASK GUIDELINES
At this time, LA County and Ventura County guidelines require masks to be worn indoors, regardless of vaccination status. However, there are exceptions included in the guidelines below.
Athletes are required to wear masks at the following times:

When entering or exiting a facility
When preparing for and waiting to get on the turf
When leaving the turf for any reason (grabbing personal or team equipment, using the restroom, etc.)
When having team meetings
When in classroom-type settings
Any other time a [insert org: DTA | SU] staff member directs them to (in alignment with their COVID-19 safety training)

Athletes are NOT required to wear masks when they are actively training
Coaches, volunteers, and visitors will be required to wear masks at all times, with exception of when they are drinking
[insert org: DTA | SU] staff will be required to wear masks at all times, with the exception of when they are drinking
SOCIAL DISTANCING
We will continue to emphasize social distancing for anyone who enters our facilities. In doing so, we will reduce the risk of having close contact* with someone who has COVID-19 and is unaware. Not only can this greatly reduce the risk of spreading COVID-19, but it also reduces the chances of individuals, small groups, or even teams having to miss time training because they had to quarantine.
*Close contact as defined by the CDC: Someone who was less than 6 feet away from infected person (laboratory-confirmed or a clinical diagnosis) for a cumulative total of 15 minutes or more over a 24-hour period (for example, three individual 5-minute exposures for a total of 15 minutes). An infected person can spread SARS-CoV-2 starting from 2 days before they have any symptoms (or, for asymptomatic patients, 2 days before the positive specimen collection date), until they meet the criteria for ending isolation.
HYGIENE
All people on-site should practice good hygiene including washing their hands frequently and covering their sneezes and coughs. Wash hands often with soap and water for at least 20 seconds before and after practice, especially after touching shared objects or blowing your nose, coughing, or sneezing. Avoid touching your eyes, nose, and mouth. If soap and water are not readily available, use a hand sanitizer that contains 60-95% alcohol content. Cover all surfaces of your hands and rub them together until they are dry. Wash hands with soap and water as soon as possible. Athletes should bring their own water bottles and should not share with others.
RESPONDING TO CASES OR SUSPECTED CASES OF COVID-19
At Dodgers Training Academy, we will communicate with our clients (directors, coaches, and parents) about COVID-19 incidents that impact them. This includes any positive COVID-19 tests, exposures, possible exposures, and how we will be addressing them.
If anyone develops symptoms of COVID-19 or was in close contact with a person who is confirmed to have COVID-19 or is suspected to, contact their Dodgers Training Academy Program Manager as soon as possible. The Program Manager will gather information about the incident and work our internal team to determine next steps for all individuals who may be affected. If we communicate quickly and effectively, we can keep everyone safe and ensure a full off-season of excellent training and impactful mentorship.